India is a varied nation where every holiday is joyfully celebrated. Many people are currently getting ready for the eagerly anticipated week of celebration as the year comes to an end. India and the rest of the globe celebrate Christmas as a magnificent festival. Is it not? What could be a better way to mark this event, then? Why not visit wonderful vacation spots in India if you enjoy traveling and seeing new places? India, after all, is teeming with unique and fantastic vacation locations. Here are some Top places to visit in India during Christmas.
Here are some top Holiday destinations in india
1. Shimla – Queen of Hills
Do you wish to spend this Christmas surrounded by snow? To celebrate among snow-capped hills, stroll down Mall Road, and have a delectable meal at British-era cafes, you should travel to Shimla. Shimla is one of the top Christmas vacation spots in India, so you won't want to miss out on all the excitement the town has to offer at this time of year. Enjoy your time at the Himachal State Museum, Christ Church, The Ridge, Hanuman Mandir Jakhoo, and Kali Bari Temple. Additionally, try to ride a toy train, raft at Tattapani, worship at Jakhu Temple, and go shopping at Lakkar Bazaar. Best place to visit in India during Christmas.
2. Goa
During the Christmas-New Year season, Goa, the smallest state in India, sees a spike in visitors who come for the state's distinctive holiday experience, which combines warm beach weather with traditional holiday celebrations. One of the best destinations to celebrate Christmas is Goa, which has a lot of churches and beaches. You can sing carols and attend midnight mass in the churches of Goa to celebrate Christmas. Fort Aguada, Doodhsagar Falls, Anjuna Beach, the Basilica of Bom Jesus, and Santa Cruz Church are a few of the top locations in Goa that you may visit.
Don't forget to check out flea markets, renowned casinos, cruise parties, church midnight services, exhilarating water sports, flea market shopping, and more. And the New Year is welcomed with the same fervor. Countless clubs and beaches host wild New Year's Eve festivities.
3. Mumbai, Maharashtra
Every holiday is celebrated with great excitement in Mumbai, which is recognized as a bustling city that never sleeps and an iconic tourist destination that every traveller should visit at least once in a lifetime. Christmas is the happiest season of the year, making it the ideal time to arrange a visit to this magnificent city. Mumbai is not only a popular tourist destination in India, but it also provides many amazing Christmas experiences, from delectable cuisine to exciting nightlife and activities.
The Christmas celebrations here are a sight to behold because of the large number of foreigners and Anglo-Indian residents. To celebrate Christmas and New Year's in the truest sense, go to Mount Mary's Basilica in Bandra. Mumbai, one of the top destinations in India for the New Year, is home to some of the most popular parties.
4. Puducherry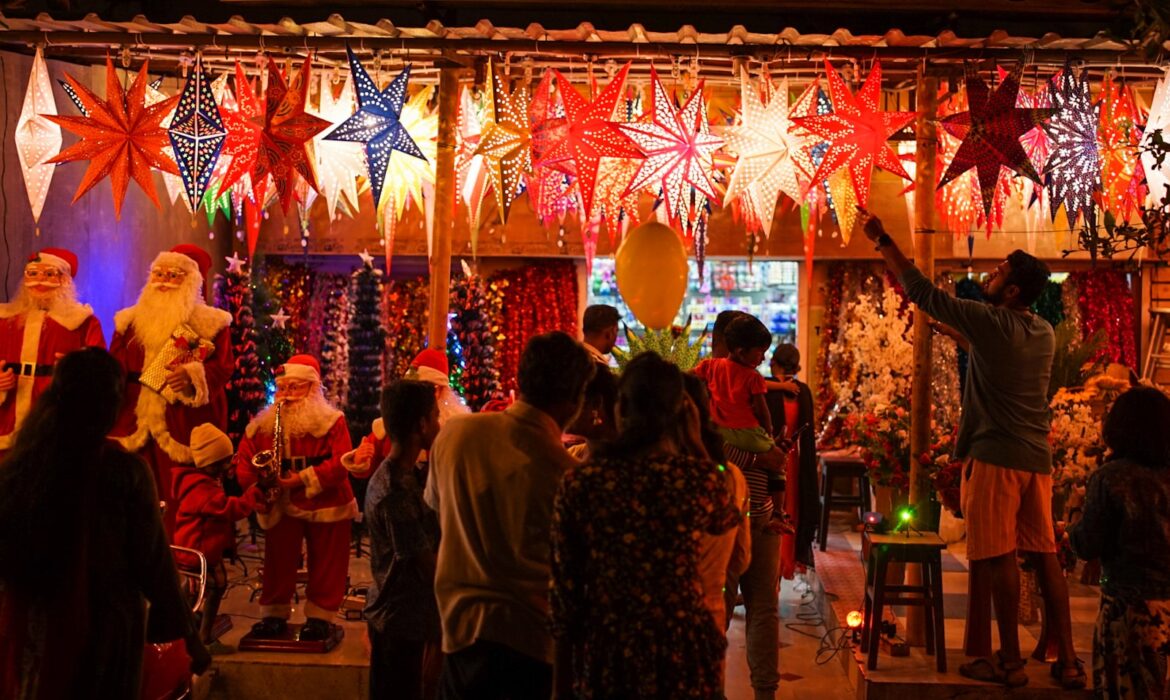 Renowned as the French capital of India, is one of the most popular Christmas celebration locations in India. It offers a taste of the customary Christmas activities, which include singing carols on the promenades, setting up adorable Christmas markets on the beaches, gorgeously lit churches, and much more. 
It makes Pondicherry the ideal getaway location for an Indian Christmas celebration. Highlights of Christmas include the breathtaking fireworks show and the enthralling street acts. During Christmas, many travel to Pondy to experience its atmosphere. Due to the celebrations and beautiful weather in this Union Territory of India, December is a great time to visit.
5. Manali, Himachal Pradesh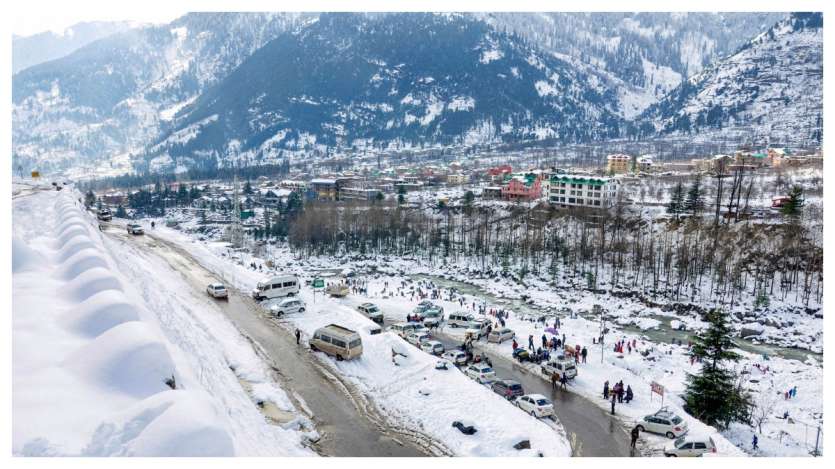 One of the best times to visit Manali is around Christmas. Visitors can take pleasure in snowboarding, skiing, gathering around fireplaces, and drinking hot chocolate from a café while they enjoy the snowfall. Visitors can anticipate seeing snowfalls and carnivals along the Manali Mall Road, where the experience is at its best. Naggar Castle is another location to check out at this time of year, where one can take in the breathtaking views of the snow-covered, long valleys. Best place to visit in India during Christmas.
Many travellers enjoy visiting Manali. You may celebrate Christmas away from the bustle of the cities by building snowmen and taking part in sports like skiing. Lighted snowmen and delicious refreshments are served as part of the season's celebration. The city's atmosphere is worth experiencing, as local cafes and restaurants host exciting events to welcome in the new year.
You can check out The Best Places to Visit in Christmas Worldwide.